I was home last Friday with a sick kid. And I'm talking really sick! He eventually had to take a rest, so I decided to work on a quick, little project while he slept.
I grabbed a jar I had already painted with Old White Annie Sloan Chalk Paint™, my box of ribbon and my mom's old tin of buttons, and set out to make something or another.
I knew I wanted to do something with a heart on it, but wasn't sure what I wanted to make the heart out of. I looked around my supplies and found the perfect material: some thin scraps of corkboard. I cut the heart out of the cork, freehand, and then painted the edges with Primer Red ASCP™ to give it a little more definition.
I picked out a red gingham ribbon and glued it to the jar, then added some twine. Next I glued the cork heart over the ribbon, adding a cute pink button in the center. :)
When I went to take some pictures of my project, I realized I needed to put something in the jar for the photo shoot. Well, I didn't really have anything laying around. So, I quickly got out some skewers and broke them off to make them different lengths. Then I grabbed some red scrapbook paper with pink stripes and cut some hearts out of it, freehand again. I taped them to the skewers, inserted them into the jar with a little bit of paper for filler and then, suddenly, my little heart jar became a Jar of Hearts.(I just so happen to be a BIG Christina Perri fan, by the way!)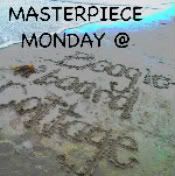 Anything Goes at Eye Heart Mondays